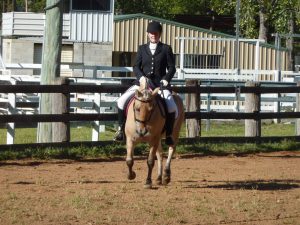 Registered APSB (44164 F Vol 24)
Bred by Mrs J O'Bree of Seaview Park Stud, VIC, acquired by Greenfield's Stud in April 2012.
Seaview Park Bridget is a lighter mare of good bone, standing 138cm or 13.2 3/8hh. She was broken to saddle by Tanja Kraus in February 2013 with a young foal at foot and commenced further training upon weaning said foal in the winter of 2013. Prior to returning to brood mare duties in 2015, Bridget has competed in EA Novice dressage to scores in the mid 60% and was training the elements for Elementary dressage. Bridget is a friendly mare who cares for young and old, human and horse. She seeks out company and will defend the underdog.
Sire:                            Palana Ulysses 10183 F Vol 21
Dam:                           Nara 33151 F Vol 18
Sire of Dam:              Ferdinand F124 (IMP) 8342 F Vol 18
Sire of Sire:                Lexon 8343 F Vol 18
Date of birth:             13.10.2005
Height:                       138cm (13.2 3/8 hh) as at 06.06.2016
Colour:                       Brown Dun
Colour genetics:      Agouti: A/a Extension: E/E Creme: n/n Dun: D/D
Progeny:                    Greenfields Irene (2012), Greenfields Martha (2016), Greenfields NF Nora (2017), Greenfields NF Ottar (2018), Greenfields NF Pippi (2019) and Greenfields NF Queen (2020) (a further 3 born at Blackwood Ridge stud prior to joining Greenfield's Stud)